In this day and age, ignoring SEO as part of any business' marketing efforts is a growth-critical mistake. Many businesses already use SEO as a daily marketing tactic.The ones that don't, find it very hard to keep up.
Read more: 5 top SEO mistakes businesses make in 2019
SEO for Dummies is a great resource for business owners looking to improve their search engine visibility, to get more leads and grow their business.
Read more: SEO for Dummies - A Book Review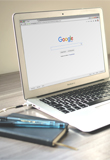 GDPR - The General Data Protection Regulation was published on 14 April 2016, and became an enforceable law by the end of May 2018.
Read more: A quick general data protection regulation GDPR summary for your website's compliance